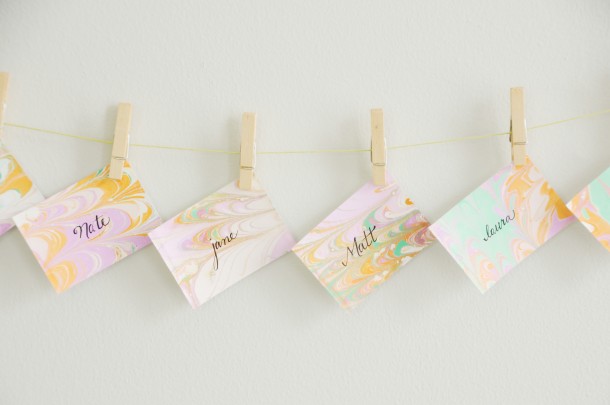 You know that amazing feeling when you have found a project that only takes seconds but has absolutely stunning results? Ya, me neither. Kidding! Erin from House of Earnest has created just that with her DIY Marbled Paper Cards. I'm sure you've stumbled upon marbled nails through your Pinterest ventures, but this takes marbling to a whole new level.
Since House of Earnest is all about pretty and simple projects, make sure to take note of this sparkly glitter vase and how to make a glass lamp from a vase.
Find out how to make your own DIY Marbled Paper Cards after the jump…
Marbled Paper Cards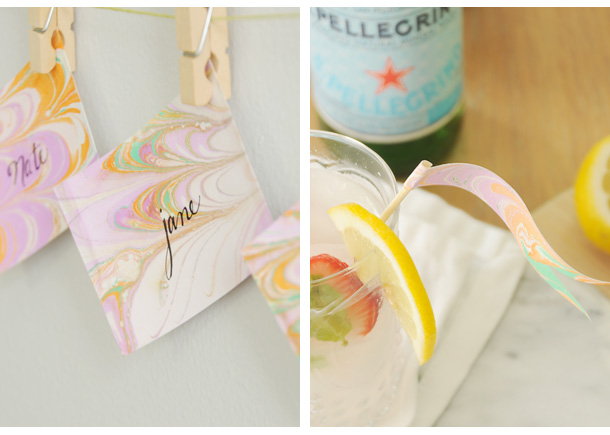 I'm Erin from House of Earnest, and I love party crafts. I decided to try my hand at making my own marbled paper for a brunch and loved the results. Now, here is the disclaimer that you must know… this was surprisingly easy. Like, I was so surprised and wow-ed about how good they turned out with minimal work. It was pretty much fool-proof.
Materials:
Cardstock
4 Colors of Acrylic Paints
Wooden Dowels
Mini Clothespins
String
Water
Liquid Starch (If you don't use this in your ironing, you can buy it right near the spray starch at the grocery store)
Alum (found in the spice aisle, used in pickling)
Dishsoap
Step 1: The preparations

ONE mix together 2 cups of liquid starch with 1 teaspoon of alum and pour in the bottom of a cake pan. TWO water down a little paint so that the paint is just slightly thinner. Add a tiny drop of dishsoap to it, this helps the paint to float on the starch. mix well. THREE construct a 'comb' with wooden dowels cut to 2 inches, or with toothpicks.

FOUR using a paint brush, shake drops and splatters of paint onto your starch. Do this with all colors you'd like to include. FIVE using your comb, comb the entire pan in one direction. SIX Then repeat in the perpendicular direction.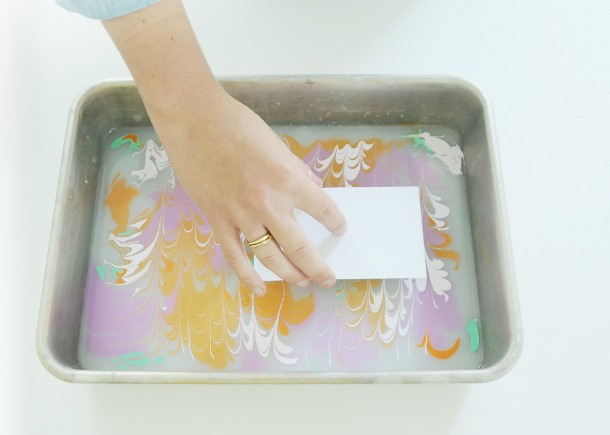 Carefully place your cardstock onto the top of the paper. Lay it down starting at one corner instead of straight down so that air bubbles don't get trapped underneath. Once the paper has made full contact, lift by one of the corners and remove from the paint/starch mixture.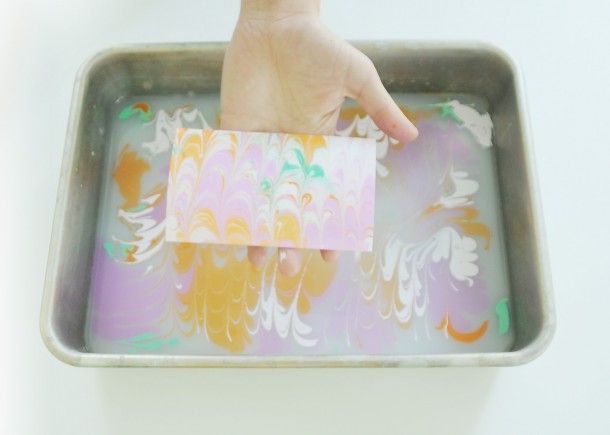 Dunk the swirled paper into another pan of clean cool water (don't worry! The paint will stay on). Then hang on a string with clothespins over newsprint to dry.
After they dry completely, you can use your marbled paper for so many things! I choose to make some cute little name cards for a weekend brunch as well as some little stir sticks using additional dowels that came with my package.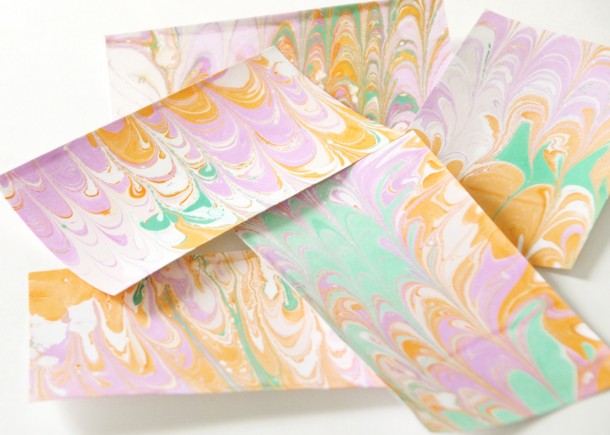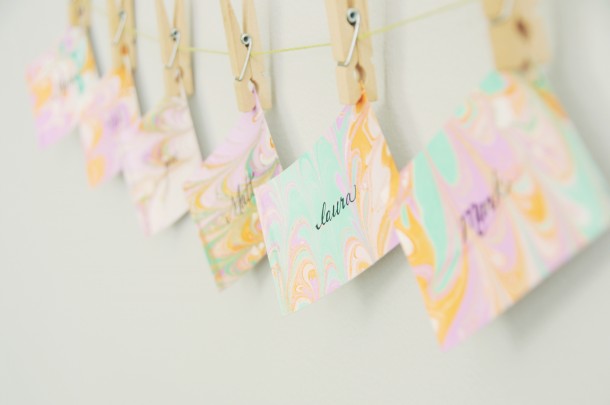 You should definitely give this a try! It's deceptively easy and seriously impressive. Enjoy!