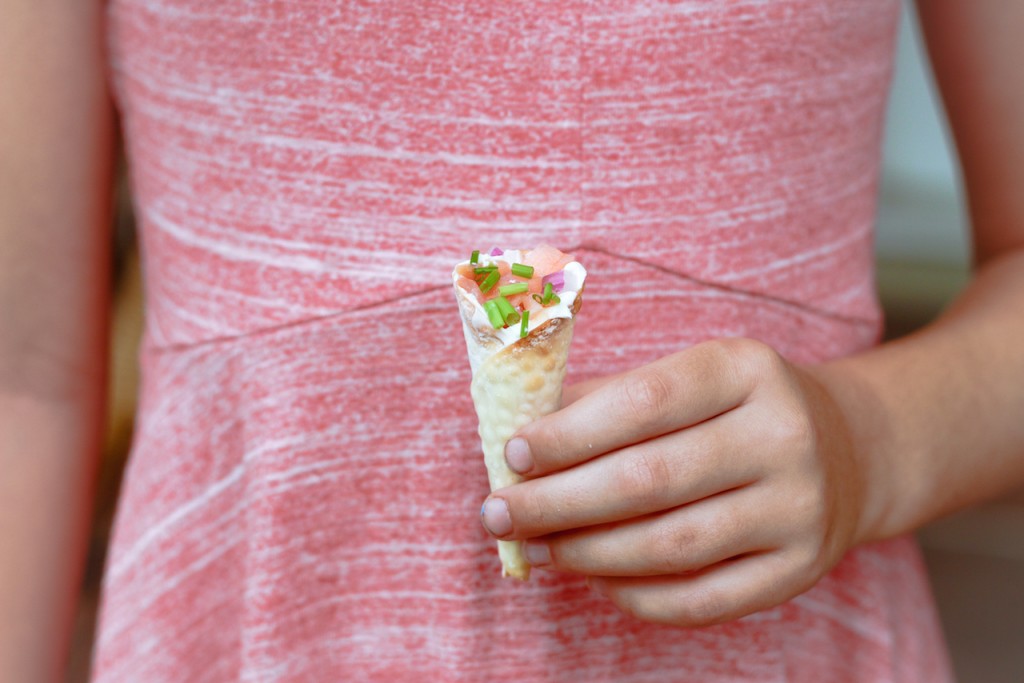 Today I am going to show you an easy cheat for making these delicious salmon cornets.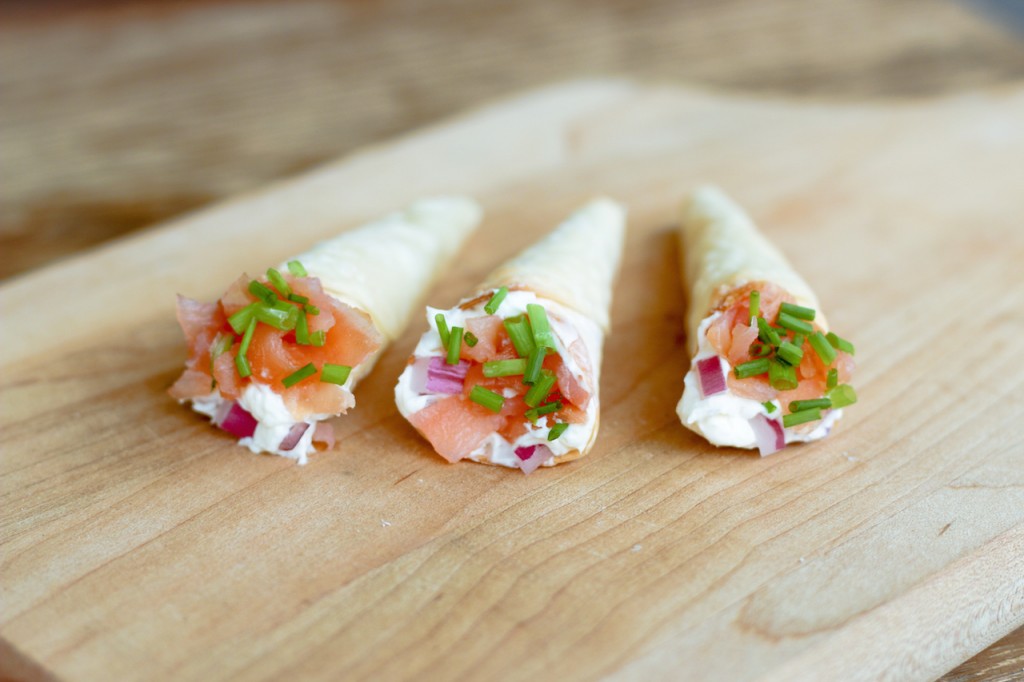 But first, I want to tell you what inspired this recipe.
On our last Caribbean cruise, Jacinda and I had the pleasure of experiencing the Carnival Chef's Table dinner.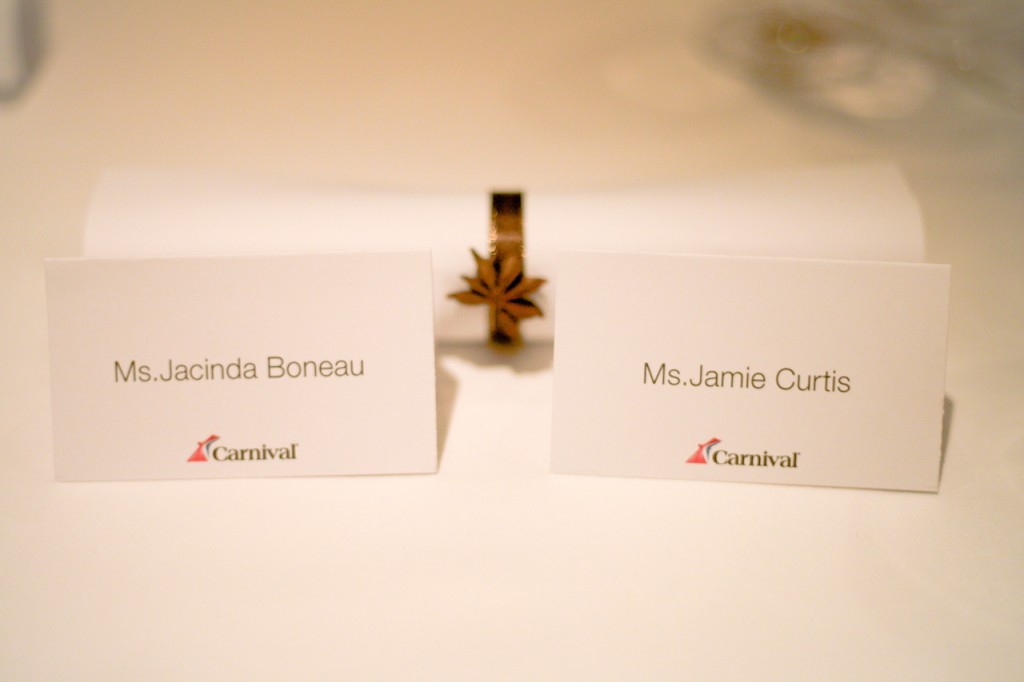 It was an 8-course extravaganza featuring a tour of the kitchens, one-on-one time with the head chef, and plate after plate of delectable delicacies.
Check out the behind-the-scenes cruise ship fun and get my easy cheat Salmon Cornet Recipe after the jump…
So the chef's table dinner on the Carnival Glory was amazing. The head chef, Frank, greeted us with champagne…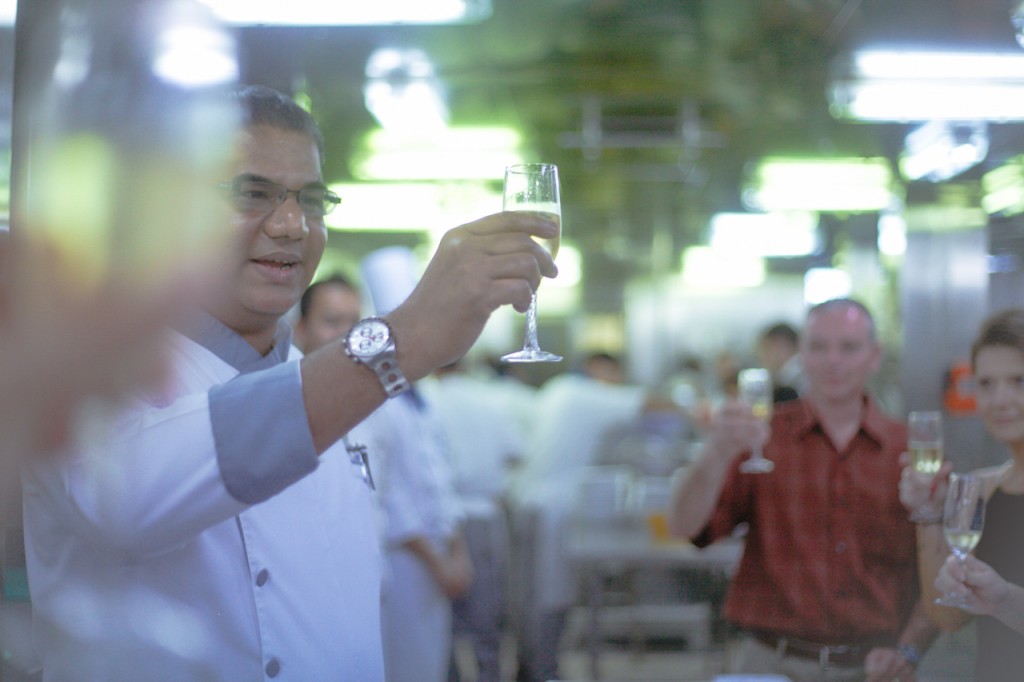 …and scrumptious appetizers like the salmon tartar cornets that inspired my recipe.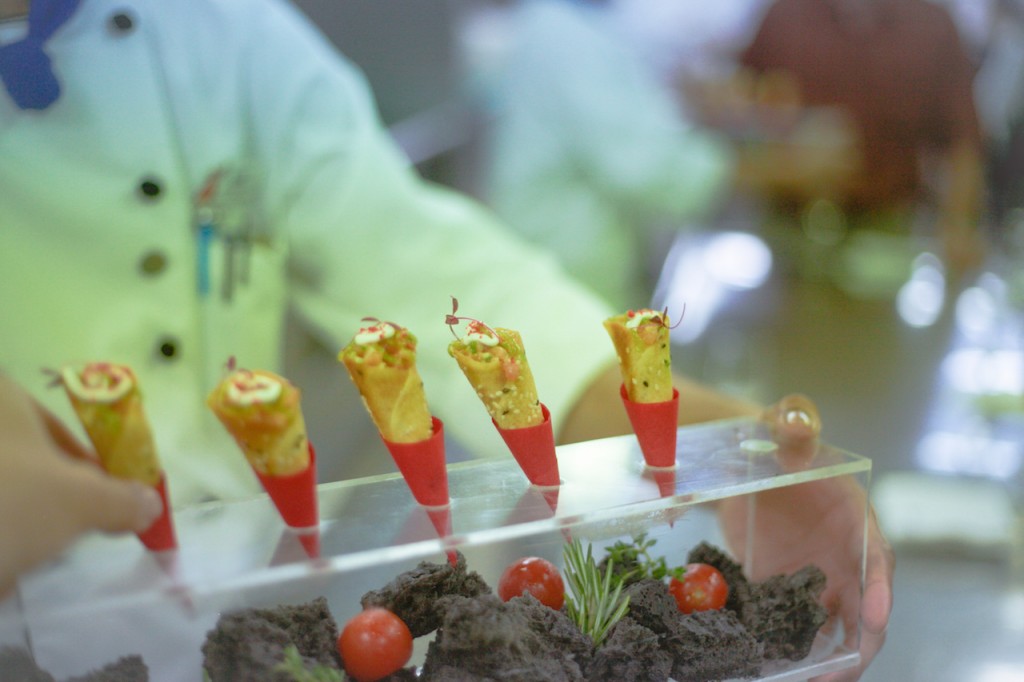 My favorite appetizer was this mango sphere on a rosemary biscuit. It popped in my mouth like a bubble!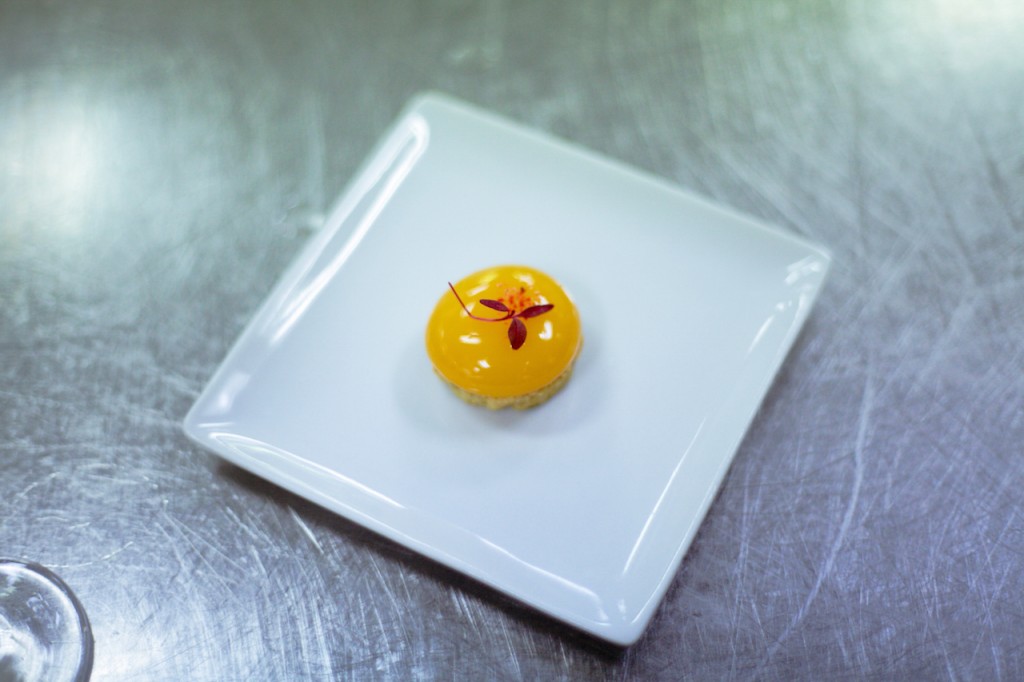 Jacinda and I love anything made out of shelled sea creatures, so this crab stack with corn custard, polenta cracker, tangerine, and passion caviar was right up our alley.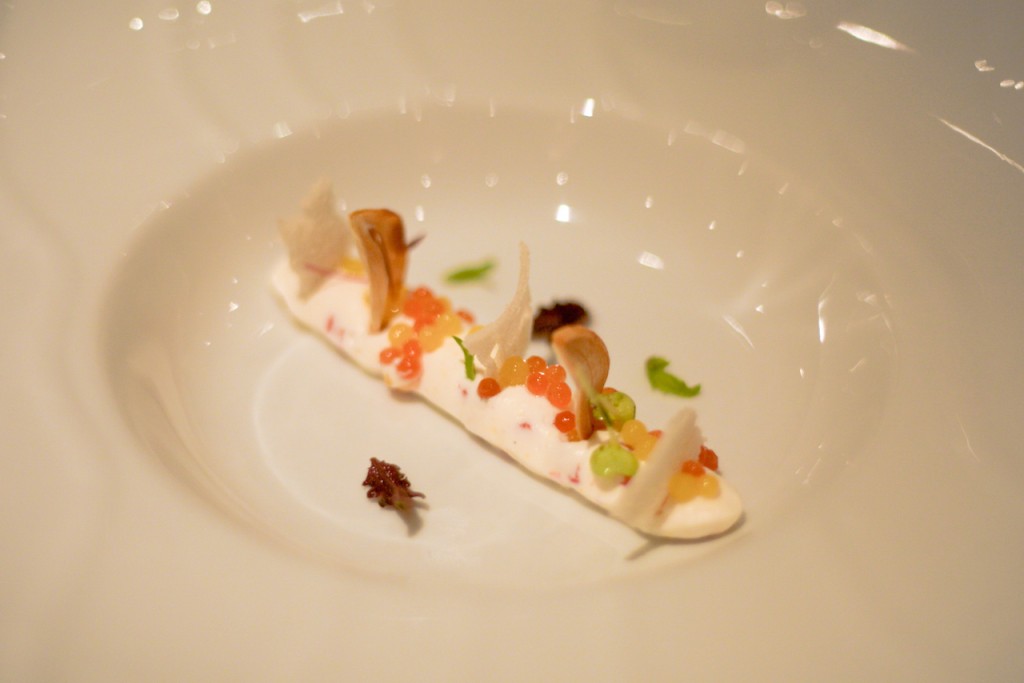 Jacinda loved this beef carpaccio air pillow with chocolate bacon and apple ribbons. Amazing.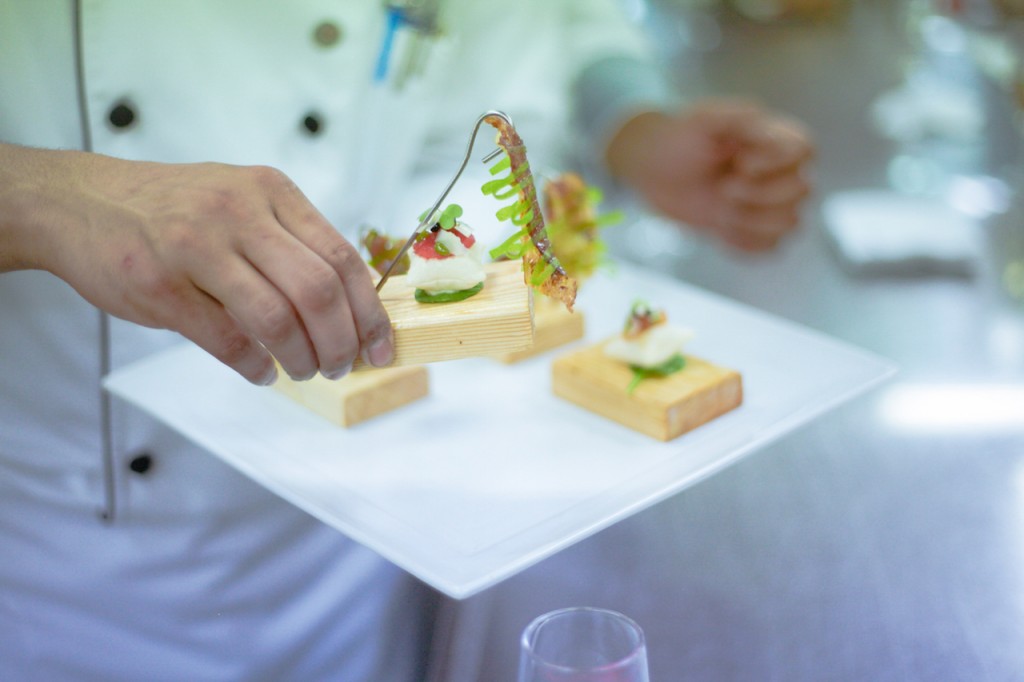 Frank showed us the attention the chefs give to the plating of each course as he topped this double cooked lamb with tapioca. Did you know that all the cooking on cruise ships is done entirely without fire? Most of the meats are cooked in a sort of sous vide type pressure cooker that was especially developed for cruise ships. I wish I could tell you more than that, but I didn't understand it very well. All I know is it was delicious.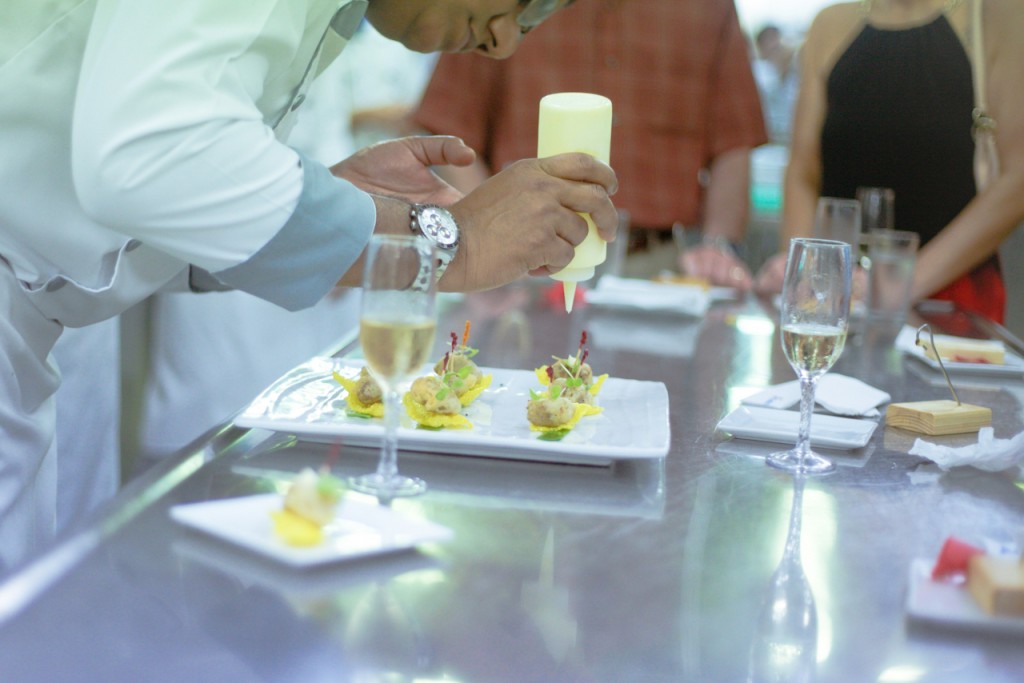 At dinner we enjoyed so many courses like this combination of two different types of tomato bisque with crisped brioche and a garlic crisp.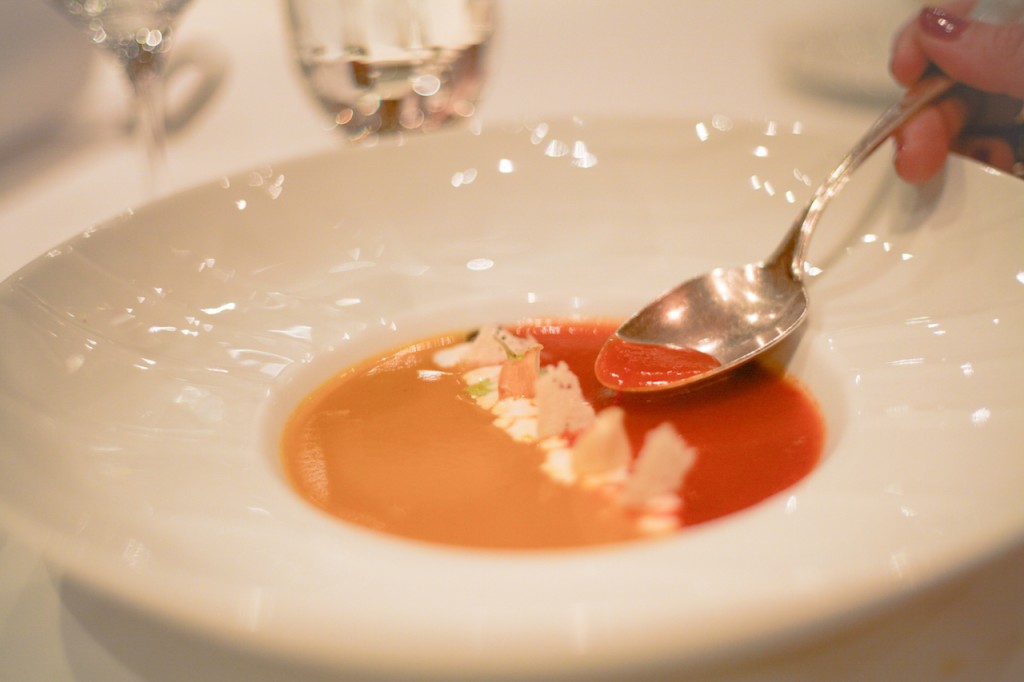 The wagyu beef with bone marrow soufflé, scallion and garlic panisse, and gremolata crisp was so tender and savory.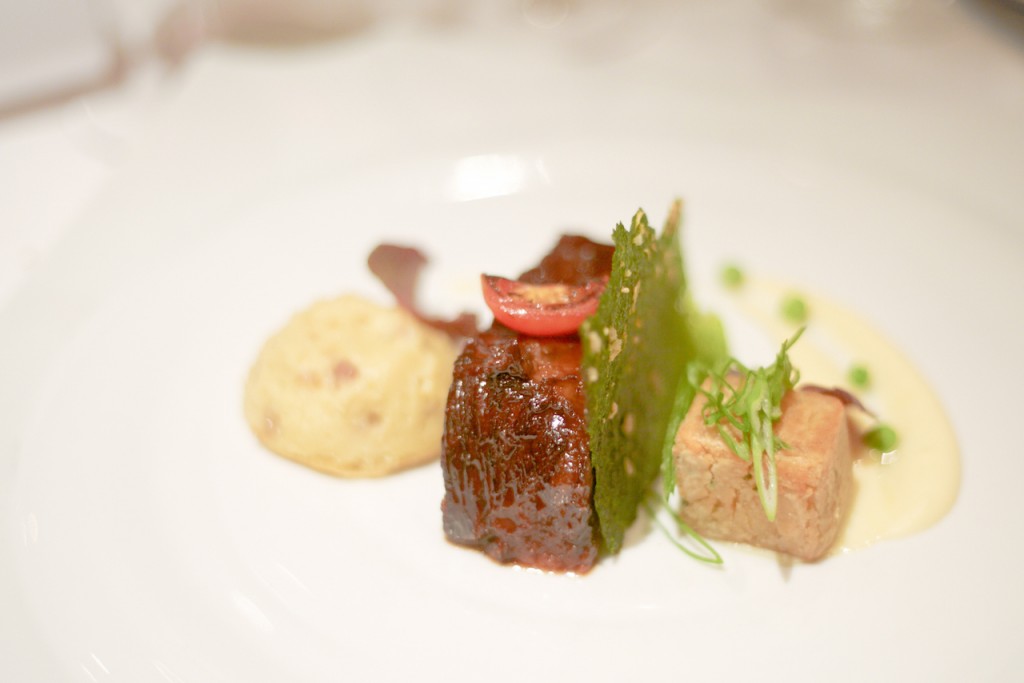 But this sea bass with chorizo crust, fried pop corn pudding, lemon macaroon, and lobster foam was my personal favorite.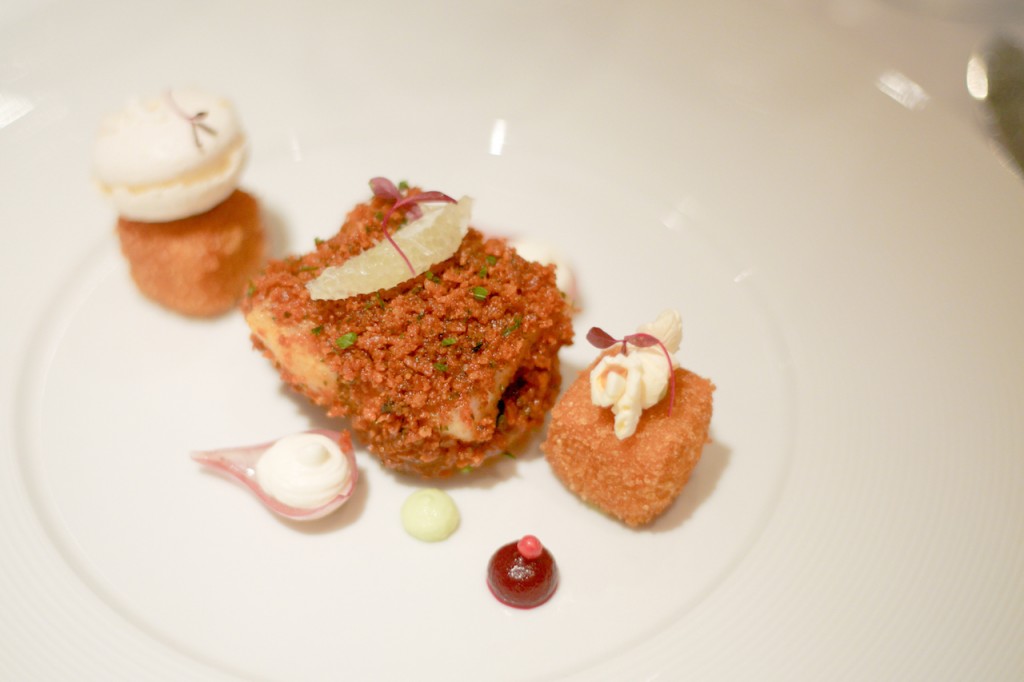 Well, it was my second favorite. My favorite thing about the chef's table experience was meeting these guys…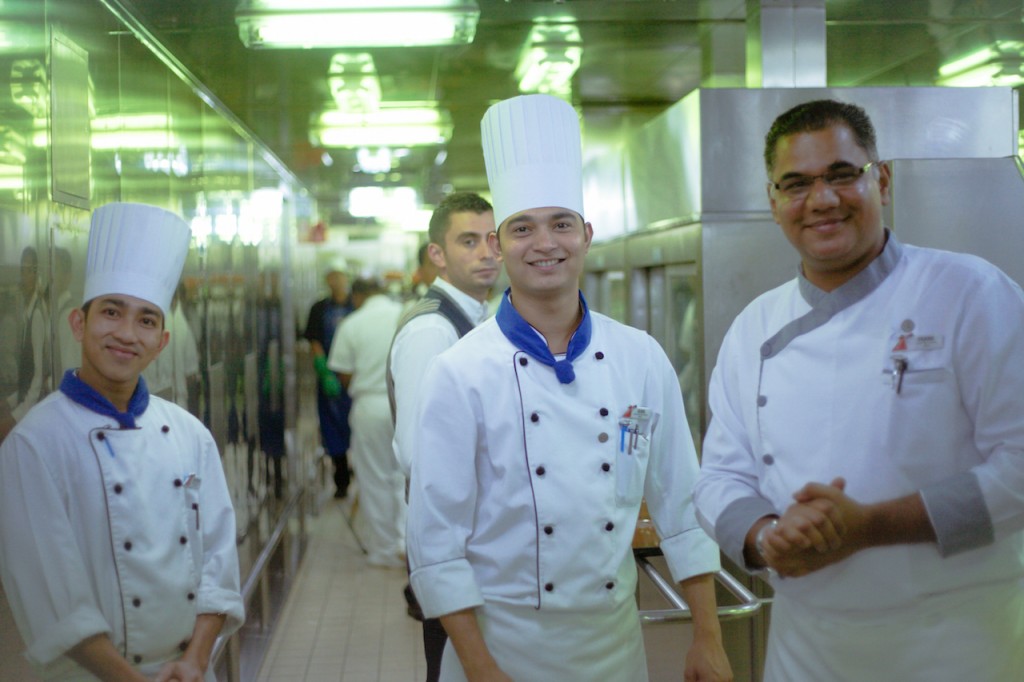 If you are ever on a Carnival cruise ship, I highly recommend the chef's table experience. All of this, and a magician too! Yes, there was MAGIC at our dinner. You guys must know by now how much I love magic. So, now to make a little magic of our own. Let's see all the shortcuts I took to make our own not-quite-as-fancy, yet-still-delicious, salmon cornets.
The Easiest Salmon Cornet Recipe
Ingredients
(adjust amounts for the quantity you would like to make, these amounts make 1 cornet):
Wonton wrapper (or gyoza wrapper)
2 tsp whipped cream cheese
1/2 tsp chopped red onion
1/2 tsp chives, diced
1 tsp smoked salmon, diced
Salt
Directions
Preheat your oven to 400 degrees.
First you will need to make your cornets. This is usually a long, involved process that requires cornet molds. So we are going to cut our first corner right here by making our own cornet molds. Simply use your hands to shape tin foil into small cone shapes. I twisted the end (sort of like a carrot) to make for easy mold-removal later on.
Our next corner-cutting step is to skip making our own cornet batter and just use wonton wrappers. You can find these in pretty much any grocery store with the Asian foods (in the refrigerated section). If they have gyoza wrappers, even better, because they are round. If you can only find square wrappers, cut them into circles with a cookie cutter or use the lip of a cup to mark the circle, then cut it out with scissors.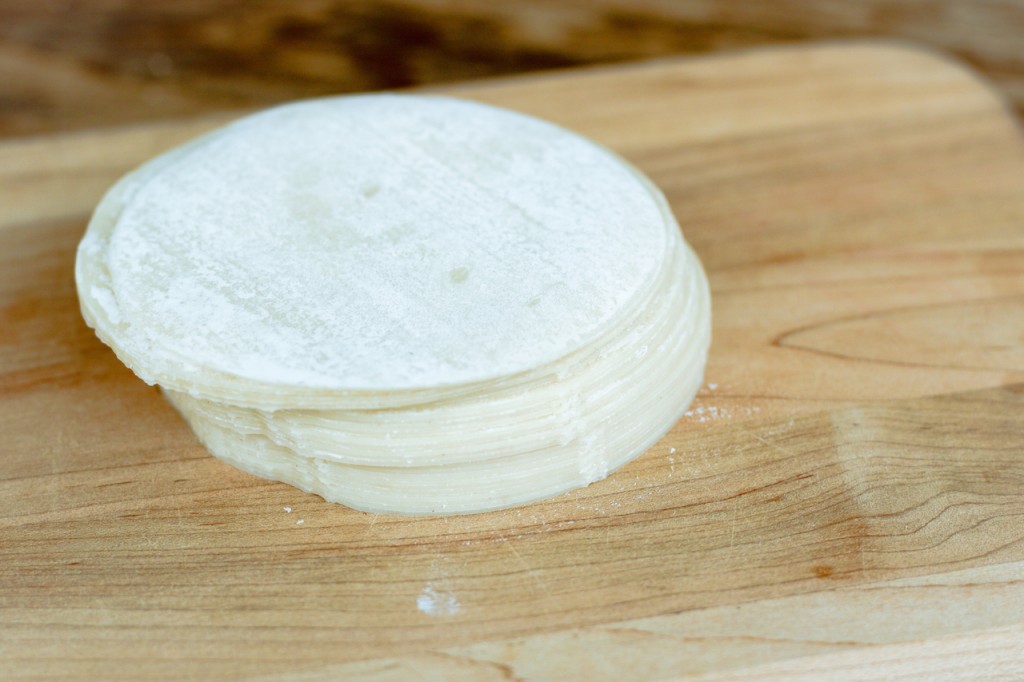 Now wrap one wrapper around your mold, moistening the areas where it touches with a wet fingertip.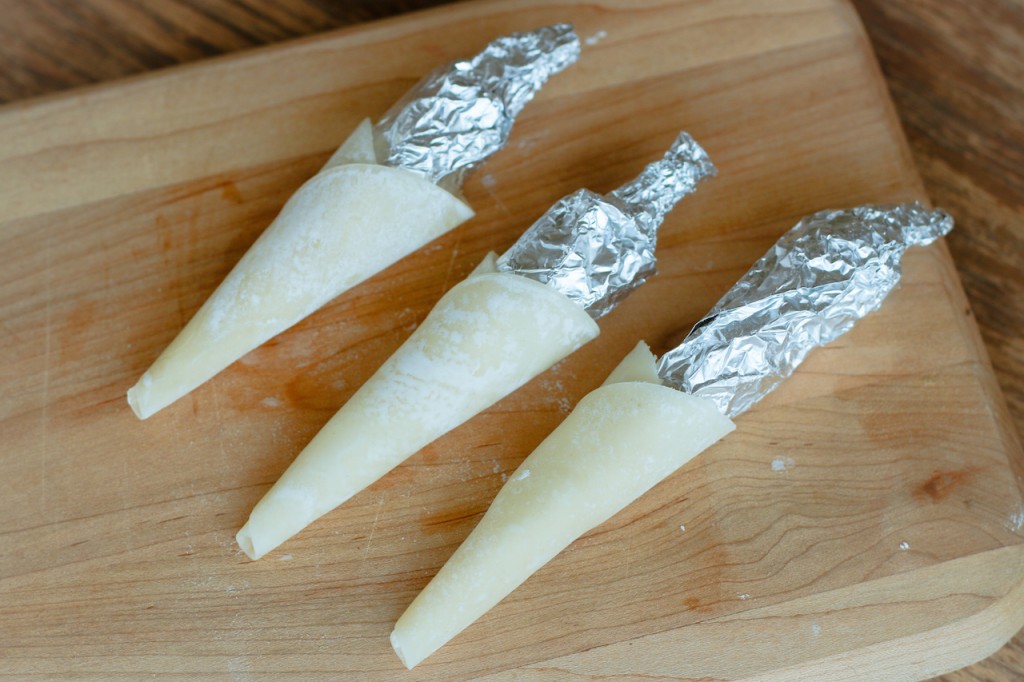 Spray the wrappers with a mist of cooking spray, place on a silpat or parchment paper on a baking sheet and bake for 4-5 minutes, until just starting to brown. If you have black sesame seeds or poppy seeds, you could sprinkle them on before baking for a little added color. When done, let cool for a few minutes, then remove your molds to find perfect little cones.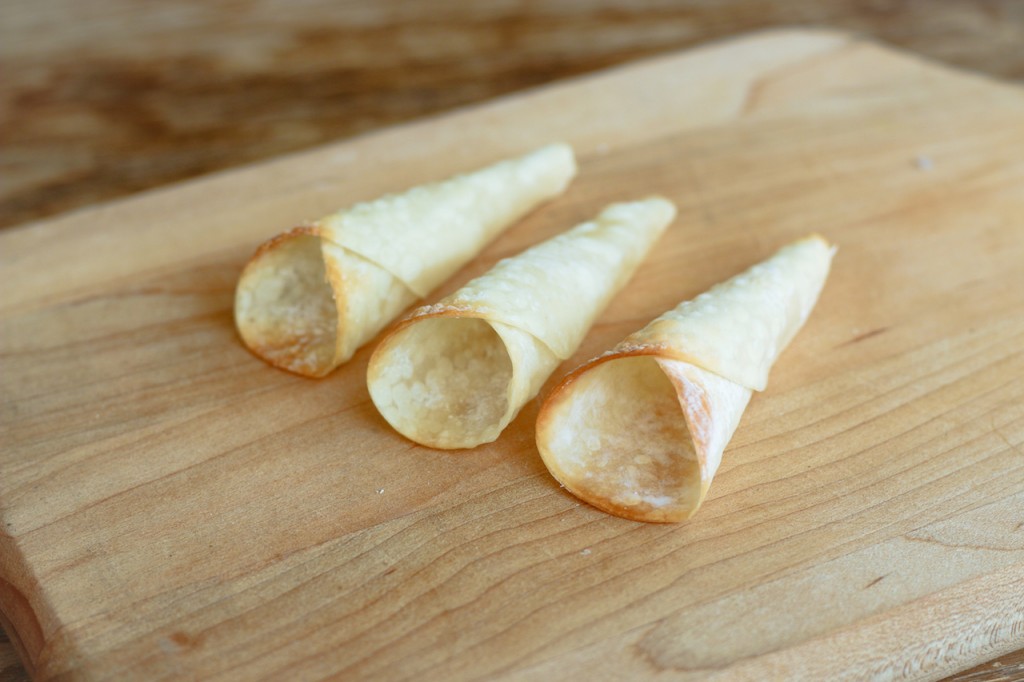 Into the cones, place the ingredients in the following order:
Whipped cream cheese combined with diced red onions, salt and white pepper to taste (you can pipe these or just use a knife)
Chopped smoked salmon
Diced chives
Done!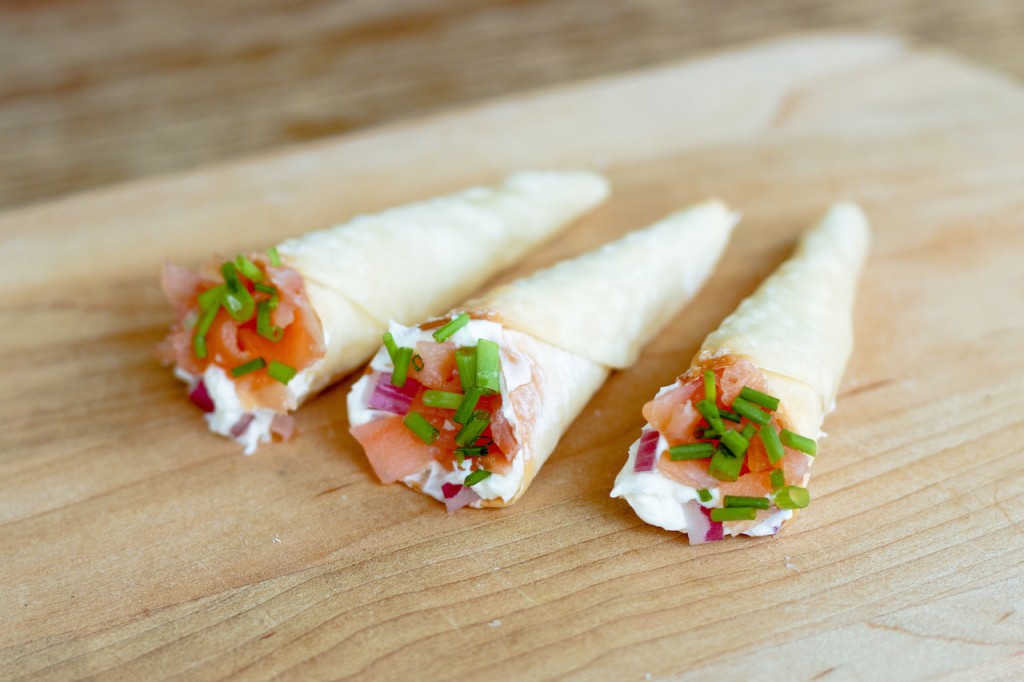 Don't they look lovely? They have a nice crunch with a creamy center. I adore them and they are so easy!
We hope you enjoy our easy cheat for this fancy recipe. If you want the real thing, you will have to take a cruise.
by Jaime
This post was created for Away We Go with Carnival, the destination for getting in the getaway state of mind. Head on over.